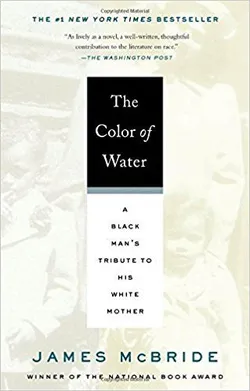 I finally read James McBride's The Color of Water (1996/2006). The author is the eighth of twelve children born and raised by a white Jewish Mother and a Christian black father. His parents, married in the early 1940's, were in a precarious position. James's mother became "dead" to her parents and extended family and lived in New York City's all black neighborhoods with her husband. She converted to Christianity, and, in fact, she and her husband founded a church.
All twelve children were raised on two fundamental values: God and education. Their mother told them that God is the color of water. All twelve became accomplished adults. James McBride is an award winning journalist, author, musician, and composer. His mother got her degree in social work at age 65 and remained a dynamic contributor to her community for many years afterwards.
By juxtaposing stories about his mother and his own life, James McBride illuminated his and his mother's struggles with identity amidst the contradictions of culture, class, race, and religion. The novel has been already daubed a "classic." I found it to be a page turner. If you haven't already read it, it is well worth the time.