Therapy in Indianapolis, Zionsville, and Carmel, IN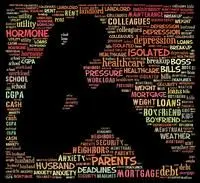 Every year since 2007, the American Psychological Association (APA) has commissioned the Harris Poll to do a Stress in America Survey. This survey is intended to measure the impact of various stressors on those who are 18 years old and older (18+) living in the U.S.A. Each stressor is measured on a 10-point Likert scale, where 1 is either "little or none" and 10 is "a great deal" of stress. Given the nature of the sampling, no estimates of the theoretical sampling error can be made, as is generally true for polls.
At last report in 2020, the average stress level reached 5.4. This increase from 4.9 in 2018 and 2019 to 5.4 was the first significant increase since the initial survey in 2007. In 2021, the average reported stress level went up to 5.6. A stress-related feeling was reported by 84% of the sample. The 2022 Pandemic Anniversary Survey was conducted online in early 2022 among 3.012 adults in English and Spanish. The overall stress level reported was 5.0. However, there was noteworthy variability among age groups (5.8 ages 18 to 25; 5.5 ages 26 to 43; 5.2 ages 44 to 57; 4.2 ages 58 to 76; and 3.7 ages 77+). The adults 58+ had lower stress levels.
Later in 2022, between August 18 and September 2, a Stress in America survey was again conducted in English and Spanish on 3,192 adults over 18 years of age. The results showed that the American people are still stressed.
The majority of respondents identified several major sources of their stress. Most of them named inflation (83%), violence and crime (75%), the present political atmosphere (66%), and the racial climate (62%) as important causes of their distress. Moreover, as many as three-fourths (76%) were worried about our nation's future, and 68% believed that our nation is at its lowest point. More than one-third (38%) had considered moving to another country. Many survey subjects claimed that stress has affected their health. 76% reported at least one symptom had been caused by stress, and 72% reported additional symptoms. The symptoms included headache, fatigue, feeling nervous or anxious, feeling distressed or sad, and being overwhelmed.
The American Psychological Association's chief executive officer proposed some ways of coping. He said, "Focusing on accomplishing goals that are in our control can help prevent our minds from getting overwhelmed by the many uncertainties in life. From using our breathing to slow racing thoughts, to intentionally limiting our social media consumption, or exercising our right to vote, action can be extremely empowering."
The American Psychological Association through its Harris Polls, will keep a close eye on stress in America.